Another milestone for last year's American Silver Eagle was confirmed in April by the United States Mint. As expected, based on record annual sales, last year turned into a record-breaking mintage year for the 99.9% fine silver coin. The mintage for the bullion Silver Eagle was 40.02 million — easily an all-time high.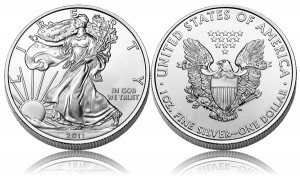 The level marks a staggering increase of 5,255,500, or 15.1 percent, over 2010 which had held the previous mintage record at 34,764,500.
Affirming the overwhelming investor demand for the bullion strikes, a new annual mintage record has been attained for four straight years. After just over 9 million were produced in 2007, yearly levels jumped above 20.5 million in 2008; 30.4 million in 2009; and then the aforementioned 34.7+ million in 2010. (See bullion American Silver Eagle mintages by year.)
Annual sales for last year's Bullion American Silver Eagle totaled 39,868,500. The sales and mintage levels are different because the United States Mint continues to offer its older-dated Eagles into a new year. In other words, remaining inventory of 2010-dated coins was sold in early 2011 just as 2011-dated coins were sold through the first couple months of 2012.
Last year the United States Mint produced five different types of American Silver Eagle coins with two minted to celebrate the series 25th anniversary. The type and their mintages include:
2011 Bullion American Silver Eagle at 40,020,000
2011-W Proof American Silver Eagles at 950,000
2011-W Uncirculated American Silver Eagles (still available)
2011-S Uncirculated American Silver Eagles at 100,000
2011-P Reverse Proof American Silver Eagles at 100,000
The bullion version was produced mostly for investors and carries the lowest premium — usually a few dollars over the current spot price of silver. The remaining coins which featured a mint mark of "W" for West Point, "S" for San Francisco, or "P" for Philadelphia were minted solely for collectors and were more expensive. Last year's uncirculated Silver Eagle is still offered by the United States Mint for $45.95. Sales reached 283,797 as of April 16, 2012.