June sales of bullion American Silver Eagles from the United States Mint maintained the momentum established the previous month and totaled 2,858,000. This was a 0.6% drop from May but still enough to qualify June as the third best month of the year to date.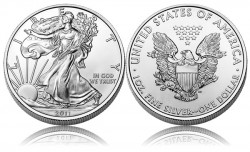 June's sales of the bullion 2012 Silver Eagles fell behind May, which had a total of 2,875,000, and January with its 6,107,000. Failure to surpass those January sales is not too surprising as that total qualified January as the second best month ever in the history of the Eagle program.
Still, the 2,858,000 sold last month is quite notable. It was more than enough to establish it as the third best June ever of the 26 year program.
Top June Sales of Bullion American Silver Eagles
| | | |
| --- | --- | --- |
| Year | Rank | Sales total |
| 2011 | 1 | 3,402,000 |
| 2010 | 2 | 3,001,000 |
| 2012 | 3 | 2,858,000 |
| 2009 | 4 | 2,245,000 |
| 2008 | 5 | 1,735,500 |
American Silver Eagles are sold by the US Mint through its network of authorized purchasers. These APs obtain the coins in bulk from the Mint and then resell them to the public for a small premium above the current spot price of the silver contained within them.
The price of silver started June with a London Fix of $27.38 an ounce. The very next trading day saw the precious metal shoot up to $29.36 an ounce, which ended up being the highest Fix achieved the entire month. Silver started a slow slide from that point on (with minor increases along the way) until the bottom for the month was reached on July 25th with a Fix of $26.72 an ounce. The white metal then climbed slightly before the end of the month to a Fix of $27.08 on June 29.
2012 Bullion American Silver Eagle Monthly Coin Sales
January
6,107,000
February
1,490,000
March
2,542,000
April
1,520,000
May
2,875,000
June
2,858,000
Total
17,392,000
All American Silver Eagles are struck from one ounce of .999 fine silver. They showcase Adolph A. Weinman's "Walking Liberty" design on the obverse which was first seen on the 1916 half dollar coin. The reverse depicts John Mercanti's heraldic eagle with shield image.
For always updated figures, visit this site's Silver Eagles sales page.