Starting sales figures for the 2012-W Proof American Silver Eagle are now available, having been published by the United States Mint on Tuesday, April 17. The bureau has reported sales of 299,539 between the coin's issuance on Thursday, April 12, through to Monday, April 16.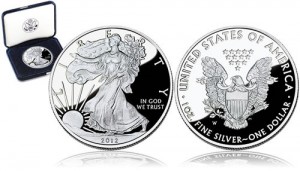 No other United States Mint numismatic coin has opened stronger in 2012. The only coin to challenge or do better is the bullion version which launched on January 3, 2012 and had sales of 11,019,000 as of Monday. But bullion versions are much cheaper at just a few dollars over the spot price of silver (currently $31.70). As a collectible coin with a unique finish and more detail, the Proof American Silver Eagle debuted with a price tag of $59.95 — the same opening price as last year's issue.
Not counting a $4.95 shipping and handling charge on domestic orders, United States Mint revenue increased by $17,957,363.05 due to the proof Silver Eagle. It is impossible to say how many collectors placed orders from the United States Mint. The Mint does not reveal those numbers and customers can order as many of the coins they want, unlike past years where there was a starting 100-coin limit per household. The lack of household ordering limits may have also stalled buyers from placing orders early as it indicates a healthy inventory of proofs with no concerns of an early sell out.
Debut sales figures were lower this year as compared to last year. But a straight comparison is unrealistic as the first reported sales of 367,623 for the 2011-W Proof American Silver Eagle covered a six-day period versus five days of sales for the newest issue.
To keep track of American Silver Eagle coin sales going forward– bullion, proof and uncirculated, visit this site's page of Silver Eagle sales. Historical mintages are also available for each type of coin via the 'Silver Eagle Mintages' menu above.
Buyers can purchase the 2012-W Proof American Silver Eagle directly from the United States Mint website at http://catalog.usmint.gov or via 1-800-USA-MINT (872-6468).