The United States Mint today, June 7, 2012, placed the 2012 American Silver Eagle San Francisco Proof Set on sale.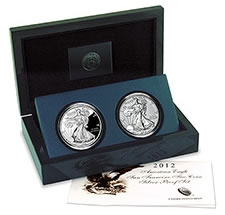 Priced at $149.95, the two-coin proof set was made available beginning at Noon (Eastern). It contains one proof American Silver Eagle and one reverse proof American Silver Eagle. Each is struck at the U.S. Mint's facility in San Francisco, and each has a "S" mintmark.
Both of the coins come housed in a custom blue lacquer presentation case. Each set will also be accompanied by a certificate of authenticity.
Sales of the 2012 American Eagle San Francisco Two-Coin Silver Proof Set — as it is officially called by the U.S. Mint — will continue for only four weeks. This window runs from June 7, 2012 through July 5, 2012. All valid orders received during this period will be fulfilled by the Mint with a final mintage for the set announced at a later date.
The lack of an initial mintage cap is undoubtedly in response to past issues experienced by collectors and the U.S. Mint with other popular releases. For instance, last year's release of the 25th Anniversary Silver Eagle Set brought many complaints because both online and telephone ordering systems crashed in the first few hours as collectors flooded them in an attempt to insure their orders were accepted. The set had a limited mintage of just 100,000 which completely sold out in just 4 1/2 hours.
Even without a mintage cap in place, collectors still raced to make their orders today for the new 2012 San Francisco American Silver Eagle Set. Visitors to the Mint's website were met with slow loading times and browser time-outs. Problems occurred for several hours.
The U.S. Mint plans to keep the public informed on current sales levels of the set with a special section on the product's page. However, that information appears to be updated manually with the first update scheduled for June 8, 2012 at approximately 3 PM (ET).
As previously mentioned, the 2012 American Silver Eagle Set contains two Silver Eagles struck at the U.S. Mint's facility in San Francisco. This minting location is unique for Silver Eagles as most recent coins of the program, like the standard 2012 Proof Silver Eagle released in April, are struck at the U.S. Mint's facility in West Point.
Another unique factor of the set is the inclusion of a reverse proof. Unlike standard proof coins from the U.S. Mint which feature frosted devices and a mirror-like background, the reverse proof showcases opposite features with mirror-like devices and a frosted background.
All American Silver Eagles contain the same obverse and reverse image. This includes an obverse depiction of "Walking Liberty" as designed by famed sculptor Adolph A. Weinman for the 1916-1947 half dollar coin. Shown on the reverse is a heraldic eagle with shield design by former United States Mint Sculptor-Engraver John Mercanti.
Orders for the set may be made on the U.S. Mint website (http://www/usmint.gov/catalog) or by calling 1-800-USA-MINT (872-6468). Shipping of the set will begin on June 22, 2012. No household limits are in place for this release. However, they will only be sold for the aforementioned four weeks.