Collectors have until 5:00 PM Eastern Time on Thursday, July 5, to purchase the 2012 American Silver Eagle Set containing two unique Silver Eagles minted in San Francisco. That is the order deadline for when the United States Mint will discontinue sales.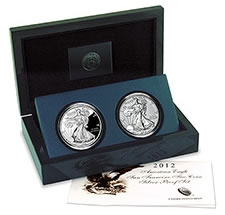 Available straight from the U.S. Mint at http://www.usmint.gov for a price of $149.95, the San Francisco proof set is a popular product that has achieved strong sales since its June 7, 2012 release. Buyers snapped up over 200,000 by July 2, three days before the order deadline.
Included within the 2012 San Francisco American Silver Eagle Set are a special reverse proof and standard proof that bear an "S" mint mark. The U.S. Mint facility in California has not produced a standard proof American Silver Eagle since 1992 and it has never struck a special reverse proof, which has a mirror-like finish on the coin's design elements and a frosted appearance for the fields — the exact opposite of a standard proof American Silver Eagle that has been produced in one form or another since 1986.
At $149.95 for the set, the price per coin equates to just about $75. The per coin premium is a bit on the hefty side considering each one is composed of one ounce of 99.9% fine silver, and the white metal has been under $30 an ounce.
Still, based on recent sales, collectors apparently are not dissuaded by price. It may be high but many feel the two coins added to their collection will add sufficient appeal and value. After all, there is no other means to get the San Francisco produced coins outside of the American Silver Eagle Set until they hit the secondary market. The U.S. Mint has no plans to sell them separately. Premiums in the secondary market could well be higher — especially for those coins that grade high by third party grading companies.
In other related products, also offered by the U.S. Mint is the traditional annual 2012-W Proof American Silver Eagle with the West Point "W" mint mark for $59.95. The Mint is also selling the 2011-W Uncirculated American Silver Eagle for $45.95. The 2012-dated uncirculated coin is expected to have a release date of August 2, 2012.