After more than 800,000 were ordered, the United States Mint has marked the 2012-W Proof American Silver Eagle as sold out. It does, however, appear that there will be another chance for collectors to get them directly from the U.S. Mint, but more on that later.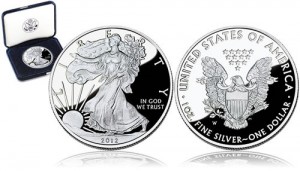 The silver coins were released on sale April 12, 2012 for $59.95. They include a "W" mint mark to denote their production at the U.S. Mint facility in West Point. On Tuesday, November 13, 2012, the Mint stamped its product page for the 2012-W Proof American Silver Eagles with a red "sold out."
No updated sales stats were released for the proofs this week. The most recent number was pegged at 819,217 on November 5, 2012. Expect that many more thousands were ordered before the sellout was called since proof Silver Eagles are very popular for the U.S. Mint around the holidays. Whatever the final number is, it is already in the upper end of mintages through the years.
And more are likely to be sold. Based on reports, the U.S. Mint will soon release a 2012 United States Mint Limited Edition Silver Proof Set for $149.95. This is expected to include one proof American Silver Eagle as well as the 90% silver coins of the five 2012 quarters, the dime and the half-dollar. Only sparse information about the silver proof set is available at this time — stay tuned to this site as more details will be announced when they become available.
Update: The U.S. Mint is indeed issuing a Limited Edition Silver Proof Set that includes a 2012-W proof Eagle. It will go on sale November 27, 2012.
Aside from the possibility of the limited edition set, collectors have other products from the Mint that offer an American Silver Eagle. These include:
2012 Making American History and Currency Set for $72.95
2011-2012 Uncirculated American Silver Eagles at $50.95 each
2012 Annual Uncirculated Dollar Coin Set for $59.95
Only the Making American History and Currency Set has a proof American Silver Eagle, but it is different from the one that just sold out as it is from San Francisco and bears a "S" mint mark. The set also includes a series 2009 $5 bill from the Bureau of Engraving and Printing. The bill starts with a serial number of "150" to commemorate the BEP's 150th anniversary. The Eagle is thrown in to celebrate the Mint's 220th anniversary.
To order these products, visit the Mint online site at www.usmint.gov.