Sales of bullion American Silver Eagle coins eased in April compared to the previous month and ended at 1,520,000. That number was only about 40% of the total from March, which had reached 2,542,000 in its final days.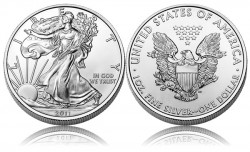 One of the biggest differences between the two months was the volatility of silver prices. In March, the white metal swung between $31.54 and $35.21 an ounce on the London Fix, while in April it only ranged from $30.70 to $32.97 an ounce and spent most of the month around $31 an ounce.
Another factor was the release of the collector 2012-W Proof American Silver Eagles on the 12th of the month. Although the proof Eagle launched at $59.95, which is considerably more than bullion strikes, it received a special amount of attention from coin collectors. By month's end, the U.S. Mint sold 342,898 of them directly to the public.
Both issues are composed of 99.9% fine silver and sport the same designs. The major distinctions between the two are the finishes and the mint mark on the proof coin. The finish on bullion coins is shiny, but proof coins stand out with their highly detailed, frosted designs against their polished, mirror-like background.
Further competition to the bullion coins will be offered in June when two additional proofs will be introduced within the unique San Francisco Proof Set, which will include a standard proof and reverse proof American Silver Eagles.
So far this year, April's bullion sales on a monthly basis placed third out of four. February was the only slower month for coin sales, as it closed 30,000 less at 1,490,000. The table below is chronological, but it highlights the best and worst for the year.
2012 Bullion American Silver Eagle Monthly Coin Sales
January
6,107,000

February

1,490,000
March
2,542,000
April
1,520,000
Total
11,659,000
Throughout the American Silver Eagle 26 year history, last month placed fifth best among other April totals. Holding on to the number one spot was April 2011. Compared to it, 2012 ended down by 54%.
American Silver Eagle Best Ever Aprils
| | | |
| --- | --- | --- |
| Year | Rank | Sales total |
| 2011 | 1 | 2,819,000 |
| 2009 | 2 | 2,518,000 |
| 2010 | 3 | 2,507,500 |
| 2008 | 4 | 1,584,000 |
| 2012 | 5 | 1,520,000 |
For always updated figures, visit this site's Silver Eagles sales page.