Bullion American Silver Eagle sales from the United States Mint showed significant improvement during the month of May with the total number sold reaching 2,875,000. This qualifies May as the second best month of 2012 falling in behind January which reached 6,107,000, the second best month of all-time.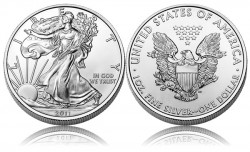 Buyers snatched up bullion 2012 American Silver Eagles as the price of silver continued an overall slide during the month. The precious metal started out on the 1st with a London Fix of $30.78 an ounce but ended the month on the 31st at just $28.10.
The fixing on the 1st was the highest seen for the month while the lowest was seen on the 16th at $27.25 an ounce. Of note, that May 16 fixing was also the lowest in 2012.
Looking back at the number of bullion American Silver Eagles sold, the US Mint has registered sales of 14,534,000 for 2012 so far. The lion's share of that amount was sold in January with its six million plus figure.
2012 Bullion American Silver Eagle Monthly Coin Sales
January
6,107,000
February
1,490,000
March
2,542,000
April
1,520,000
May
2,875,000
Total
14,534,000
That being said, last month's figures are nothing to sneeze at. May 2012 is the third best May ever for Silver Eagle sales in the twenty-six year history of the program. It falls in behind 2011 which ended up with the best annual sales of Eagles ever after it exceeded 2010 sales which held the top spot previously.
Top Five May Bullion Eagle Sales
| | | |
| --- | --- | --- |
| Year | Rank | Sales total |
| 2011 | 1 | 3,653,500 |
| 2010 | 2 | 3,636,500 |
| 2012 | 3 | 2,875,000 |
| 2009 | 4 | 1,904,500 |
| 2008 | 5 | 1,516,000 |
Bullion American Silver Eagles are sold by the US Mint as an investment option for adding small amounts of silver to an individual's portfolio. The coins, however, are not sold directly to the public by the US Mint. Instead, a network of authorized purchasers obtain the coins in bulk from the Mint, then resells them to the public in smaller quantities for a small premium above the current spot price of the silver contained within them.
Each coin is struck from one ounce of .999 fine silver. The obverse design showcases Adolph A. Weinman's "Walking Liberty" first seen on the 1916-1947 half dollar coins and considered by many as one of the most beautiful ever struck on an American coin. The reverse depicts John Mercanti's heraldic eagle with shield image.
Coming in June, collectors will likely be interested in the related San Francisco Proof Set. It contains a standard proof and reverse proof American Silver Eagle, both struck at the US Mint's facility in San Francisco.