Sales during the month of November 2011 of the bullion American Silver Eagle dropped to levels not seen in over three years. According to the U.S. Mint's most recent figures, authorized purchasers only ordered a total of 1,384,000 during the month.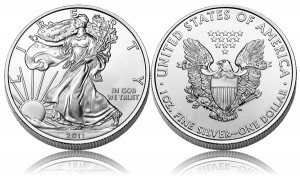 While that number would have been considered above average (if not stellar) several years ago, it is rather disappointing in comparison to any month within the last three years. Bullion American Silver Eagle demand has mostly been on fire since the summer of 2008 (see bullion mintages) when investors started buying the 99.9% pure silver coins as the U.S. economy began turning sour.
Those investors have routinely driven American Silver Eagles to new monthly and annual records since 2008. However, the run of new records may be over as investor interest has apparently turned cold.
One only has to look as far back as January of this year to find the best month ever for Silver Eagles since their debut over a quarter of a century ago. In January 2011, the U.S. Mint recorded a total of 6,422,000 bullion Eagles sold — a tally likely to stand as the monthly record for a long time if demand continues to head south.
However, it is really too early to say whether a declining trend is truly happening as later months during the year have showcased incredible strength. October 2011 sales came in at 3,064,000 which was enough to qualify it as the fourteenth best month ever for the bullion American Silver Eagle. The month before that, September 2011, had sales of 4,460,500 which is the second best ever month coming in behind the previously mentioned January 2011 figures.
In fact, sales have been so strong all year that it shattered the all-time annual record in early October with almost three full months left to go to widen the gap over the previous record holder. Including November sales, Silver Eagles now have a 2011 annual tally of 37,859,500 with one full month left in the year. The previous record holder of 2010 had annual sales of 34,662,500.
Top Five Annual Sales of Bullion American Silver Eagle Coins
| | | |
| --- | --- | --- |
| RANK | YEAR | SALES |
| 1 | 2011 | 37,859,500 (through November) |
| 2 | 2010 | 34,662,500 |
| 3 | 2009 | 28,766,500 |
| 4 | 2008 | 19,583,500 |
| 5 | 2002 | 10,475,500 |
But again, with sales so strong in the months leading up to November, it is perhaps to early to call a permanent change in directional demand. It may also be likely that investors have just paused momentarily after taking Eagles to levels never before seen.
In additional news for American Silver Eagle coins in November, the collector proof Eagle sold out with an individual total of 850,000 as of Tuesday, November 22, 2011. (The total mintage for the 2011 proof will be more in the 950,000 area, as the Mint's 25th anniversary set sold out on October 27 and 100,000 proofs were sold with the set.) The Mint's collector uncirculated Silver Eagle remains available at http:www.usmint.gov for $50.95.
For an always-updated month-by-month listing of how many coins are sold in 2011, see the 2011 American Silver Eagles information page.