Earlier this week the price for San Francisco minted 2012 American Silver Eagle Proof Set was revealed to be $149.95.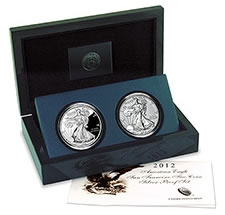 Announced officially through the Federal Register on Friday, June 1, the pricing news came one day earlier in an article on CoinNews.net that compared the new set's premium to that of last year's 25th Anniversary American Silver Eagle Set.
Needless to say, while many collectors appear excited about this year's specially minted set from San Francisco, many are also less than thrilled about its mark-up. The melt value of an American Silver Eagle matches one ounce of silver which as been around $28 an ounce in recent days. Double that since there are two Eagles within the set and the resulting $56 total is far shy of the set's $149.95 price. It actually represents an increase of more than $92, or 160%.
These San Francisco minted coins do deserve a premium, and all collector coins sold by the U.S. Mint and other world mints are often generously marked up beyond their precious metal contents and other costs to produce them. But the mark-up in this case seems exceptionally high given that the American Silver Eagle set will be produced to meet demand.
Included within it are two coins, a reverse proof and standard proof. Both will have the San Francisco 'S' mint mark. Aside from that mint mark, the standard proof is identical to the West Point minted 2012-W Proof American Silver Eagle which was released by the United States Mint on April 12, 2012 for $59.95 — double that and it is still far from the set's price. The reverse proof will be most unique since its appearance is opposite of the affect noticed on West Point Eagle.
Anyone interested in the set can place an order on the U.S. Mint website (http://www/usmint.gov/catalog) beginning on June 7 at noon ET. There are no household order limits but the sets themselves will only be available for four weeks with sales ending on July 5 at 5:00 PM ET.