2011-2012 American Silver Eagle Sales
United States Mint sales figures for its 2011-2012 American Silver Eagle, including the annual bullion and collector proof and uncirculated coins, are provided in the below tables. The latest U.S. Mint prices and intrinsic or melt coin values are also offered.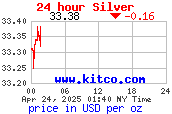 In a snapshot for releases this year, the U.S. Mint began selling bullion 2012 American Silver Eagles on January 3, 2012. On April, 12, sales of the 2012-W Proof American Silver Eagles started at price of $59.95. The two-coin 2012-S American Silver Eagle Set went on sale June 7 with pricing of $149.95. The release date for this year's uncirculated version is currently scheduled for August 2. The U.S. Mint continues to offer 2011-W Uncirculated American Silver Eagles at http://www.usmint.gov.
The silver spot price in the yellow field below may be changed, which will automatically update each of the silver coin tables below with their melt values. For the latest silver spot price, see the chart immediately above.